Since 2015 I've been leading the UX for Google Translate, a product that touches 1 in 6 people's lives on the planet every month. My family and friends often ask: what's there to design for Translate? If you're like them, then this article is for you :)
First things first
Google Translate is a family of products that include mobile apps (
iOS
&
Android
), a
website
, a crowdsourcing
community
, as well as multiple integrations in Google properties like Search, Chrome, Gmail, Docs, etc. The first thing I noticed after starting as the team's only designer was that there was no organization to prior UX design and research, and no established processes. My first task was to do a little house cleaning and bring order and visibility to our work. I call this Opinionating the process. 
Opinionating the process
If bureaucracy is the enemy of creativity, organization is its best friend, in my opinion anyway. While there can be a fine line between them and each team is different, if you figure out the right amount of process and structure for your team it can have a positive impact on performance. Here are a few light-weight processes I put in place for our team, many of which I learned from UX program managers on prior teams: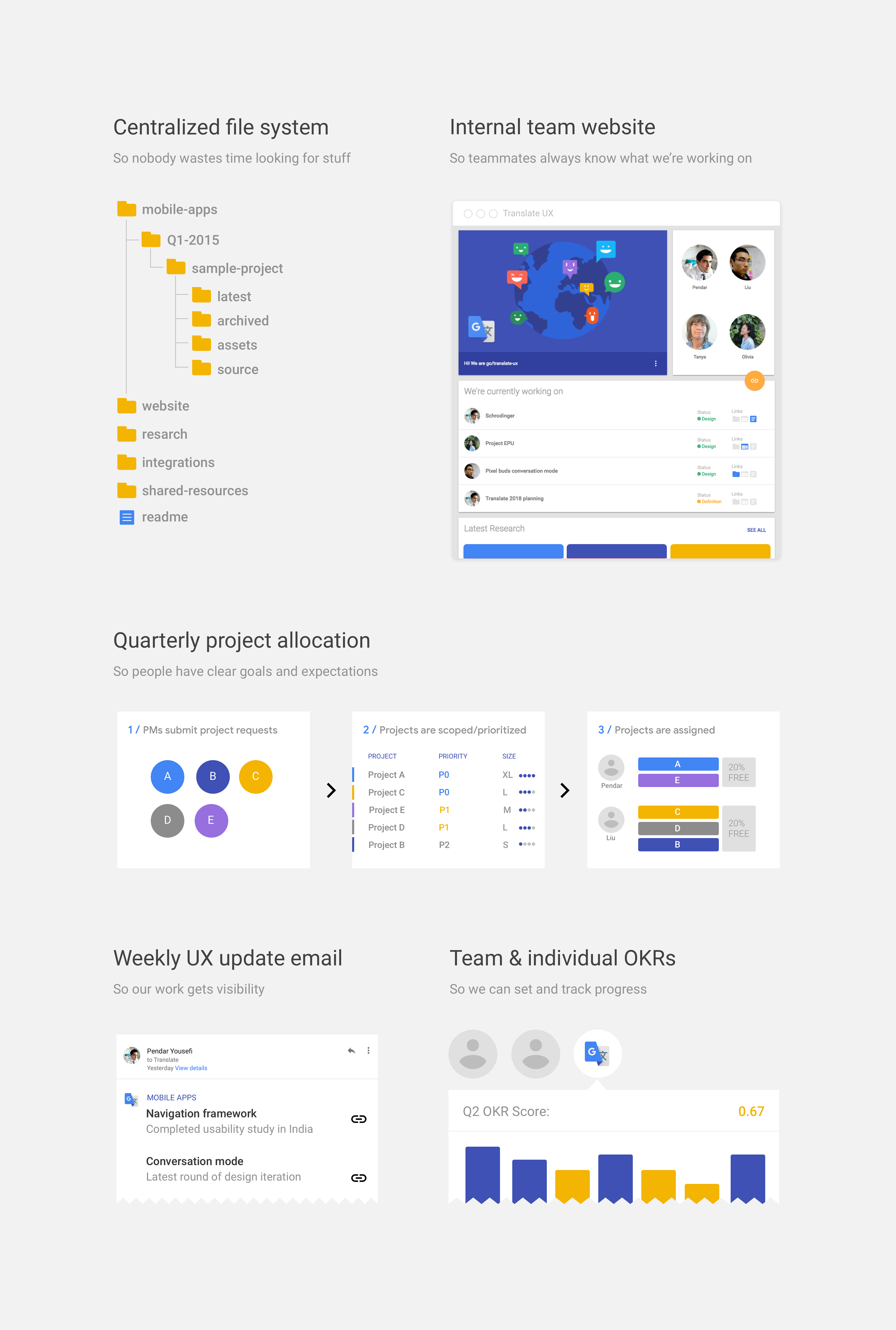 Focus on user research
Our users are spread all over the world, and Google Translate needs to work for all of  their diverse needs. Understanding their perspectives was crucial to doing my job of improving translation experiences. After digging through old research, I created a research program focused on international studies to fill the gaps. The program offered on a variety of research methods; from getting 
Google Surveys
to work in our mobile apps, to using a combination of in-house and vendor-driven usability studies, to immersive discovery trips. And we did all of this without having a formal UX researcher on the team in the beginning.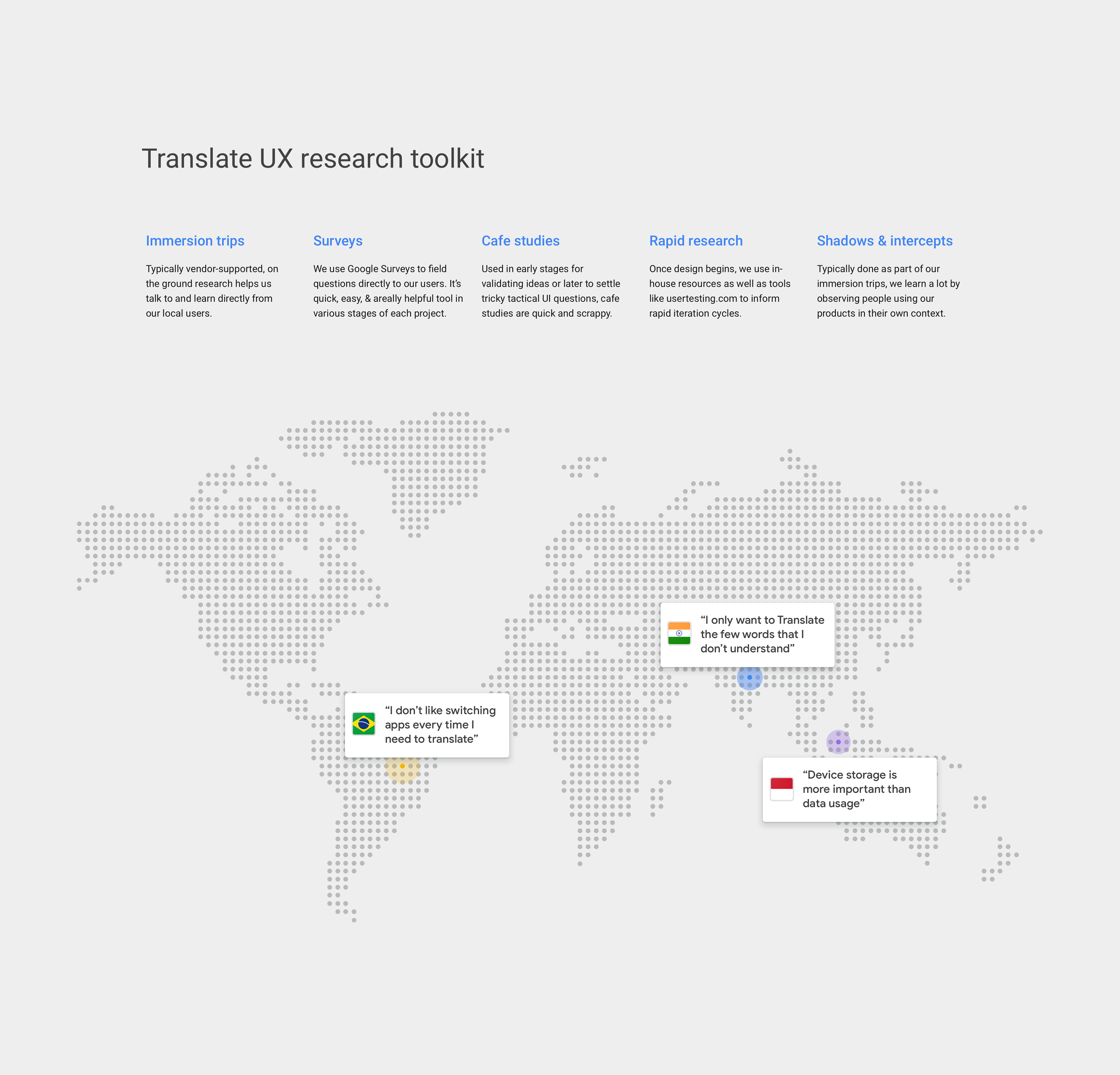 Creating a vision
Process and organization help teams work more efficiently, and user research helps identify opportunities. But without a vision you are always reacting. Soon after joining the Translate team, I volunteered to plan and run our team's annual strategy off-site, and used
Design Sprint
methods to structure the day around vision-setting activities. This was a big departure from the ad-hoc format of prior annual meetings and further solidified UX's credibility within the team. But more importantly, I used all the ideas generated from the sprint to create a long-term vision for Translate. This was not only a huge motivating factor for the entire team, but established an enduring common language that has helped cross-functional team leads make decisions that are aligned with our team's long-term goals.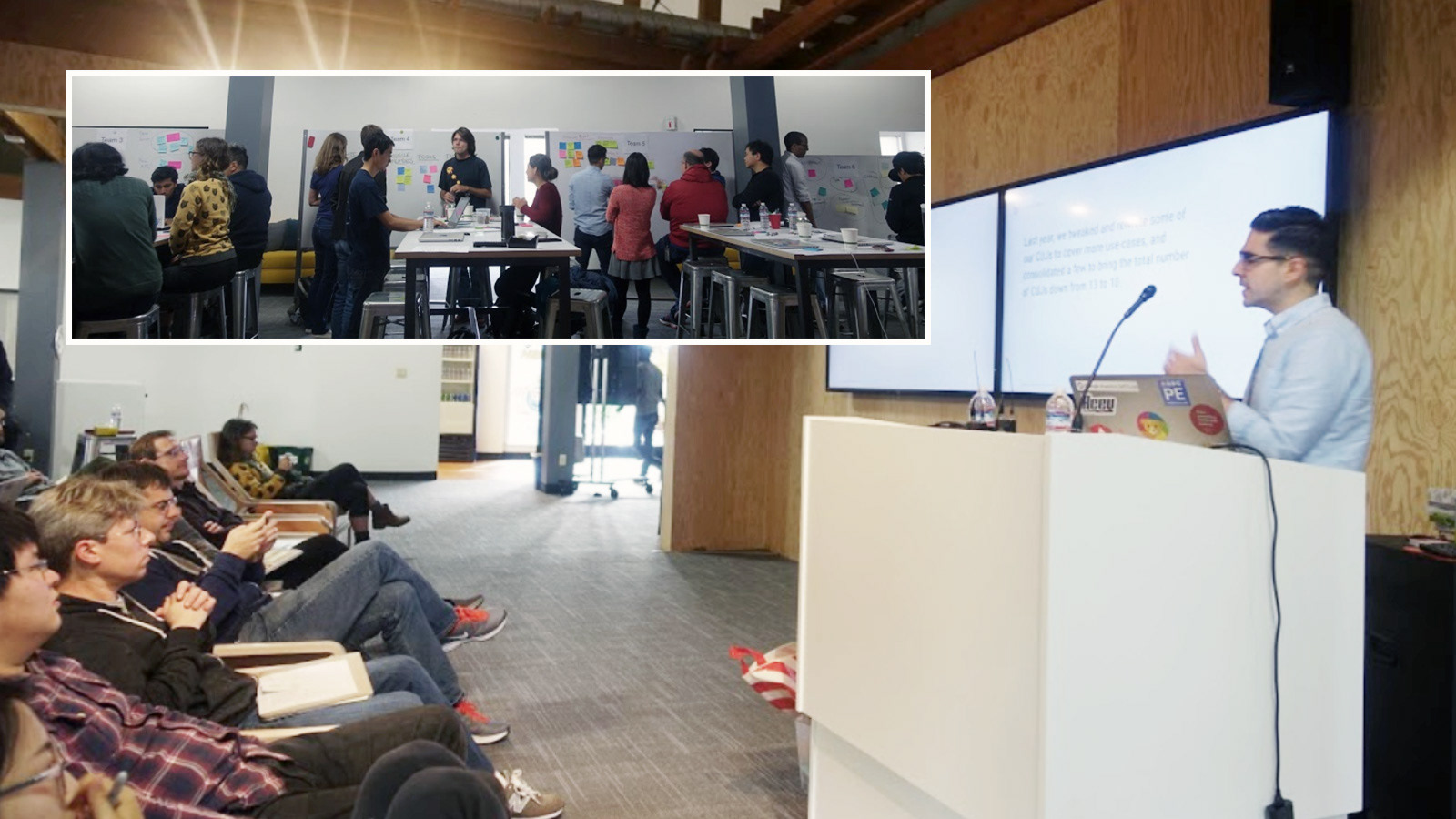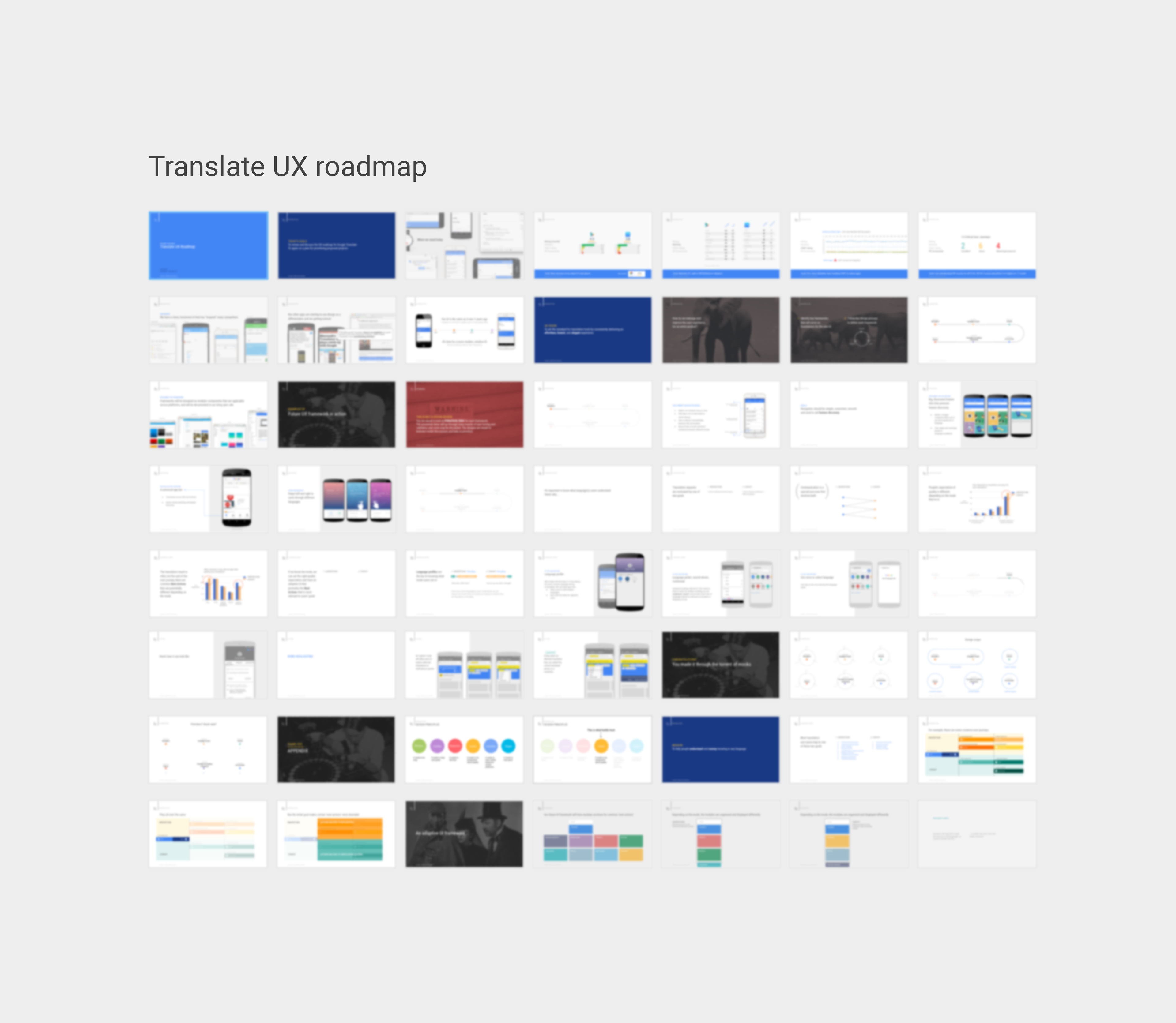 Case study: Tap to Translate
One of our key research discoveries was this: eager to consume content in their local language, users were creating their own "hacks" by copy-pasting to and from Google Translate, to translate web and app content shared within messaging or social app. Given that more than 50% of content on the web is in English, and only 20% of the world's population has knowledge of English, this makes a lot of sense.
Having to switch back and forth between Google Translate and other apps was a huge pain point. To solve this, we joined forces with Google's Creative Labs team and created Tap to Translate: a feature that allowed users to instantly translate any text from within any app on Android, simply by copying it. The Translation would just pop up. Watch this video to see how it works:

This was not only a huge hit with our users, but also a successful model of cross-team collaboration within Google. As Translate's UX lead, I ran design sprints between our Mountain View and New York teams, planned international user studies, and iterated on the final version of the designs.

We wanted Tap to Translate to be non-intrusive, since people use the copy function for many reasons besides translation. So we decided to have it turned off by default and let people who need it decide when to turn it on. But that introduces the problem of discoverability; what if people who really need this feature don't notice it? Instead of blasting everyone with promotions, I came up with the idea of contextually promoting it whenever someone pastes something in Google Translate. Since this feature eliminates the pain of copy and pasting, those people are most likely to benefit from it. Indeed this turned out to be our most successful promotion with double digit CTR and opt-in rates.